Mission
The Pond Health Program´s mission is the establishment of a baseline reference for the trophic health of Mashpee's six (6) ponds with public access and recreational opportunities. The baseline has been established. Pond trophic states and trends are verified each year by Coalition volunteers supported by laboratory services from the School for Marine Science and Technology, U. Mass, Dartmouth. The program has been in effect since 2003.
Working with an initial equipment assistance grant from the Community Foundation of Cape Cod and The Grassroots Community Fund, MEC is dedicated to providing this public service and appreciates the support of the Grantors, the School for Marine Science and Technology of UMass-Dartmouth, the Cape Cod Commission and the Association to Preserve Cape Cod.
Program Summary
The program is conducted during the warmer months (May to October) when pond productivity is anticipated to be at its maximum level, with water column measurements (Dissolved Oxygen, Temperature, Transparency) taken once or twice a month and lab analyses annually. Ponds monitored are Ashumet, Johns, Mashpee, Wakeby, Moody, Martha's and Santuit. Please contact us if you would like to be a Pond or Lake Steward.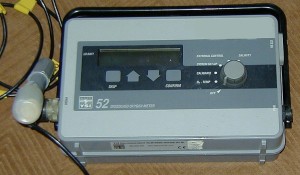 Reports
Reports of each year´s results are compiled and published in the ″Edward A. Baker Library″ of this site. In addition to the published results, all data developed is available, on request, in Microsoft Excel format.
The success of this program is a result of the efforts of dedicated volunteers, including science students from Mashpee High School. MEC is proud to have these community-minded individuals among its membership.