MEC´s monthly Board of Directors Meeting Schedule
Board meetings are held at the Mashpee Public Library on the second Thursday of each month
4:00pm to 5:45 pm.  ( Driving Directions )
The next meeting dates will be:
Annual Meeting   September 14, 2017
October 12, 2017
November 9. 2017
No Board meeting in December, 2017
January 11, 2018
February 8, 2018
March 8, 2018
All are welcome
If the Library closes on our meeting day, the MEC meeting will be canceled.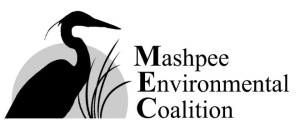 You are invited to the 2017 ANNUAL MEETING  on Thursday, September 14, 2017; 4:00 – 5:30 PM

Mashpee Public Library Conference Room
64 Steeple Street, Mashpee, MA
Join your friends and neighbors as we discuss important environmental concerns and what we can do about them!
For more information contact Virginia Scharfenberg @ 508-889-7172; [email protected]
After overwhelming approval at Town Meeting, unanimous approval by the Cape Cod Commission and approval by the Attorney General, the Town of Mashpee has now added lawn fertilizer regulations to the Town Code.  These regulations strongly recommend that only one to two pounds of nitrogen be applied per 1,000 square feet of lawn area.  Phosphorus in lawn fertilizers should only be applied on new lawns or lawns where a soil test indicates a real need.
This Nitrogen Control Bylaw, Chapter 107 of the Town Code, includes the following performance standards that anyone who fertilizes their lawn areas must abide by: read more…